The successful application marks a breakthrough in the treatment of uveitis macular edema (UME) in China, allowing China patients to access the innovative treatment just six months after the commercial launch in the United States. ARCATUS® (ARVN001) is expected to be the first approved drug for UME in China.

Boao, Hainan, September 26 , 2022 – Arctic Vision, a China-based biotech company focused on innovative ophthalmic therapies, today announced the first-ever administration of triamcinolone acetonide injectable suspension for suprachoroidal use as a treatment of uveitis macular edema (UME) in China. The successful application is enabled by the early access program in Boao Lecheng International Medical Tourism Pilot Zone (Lecheng Pilot Zone), which allows individuals with urgent unmet needs to access innovative drugs, medical devices and therapeutics that have not yet been approved by NMPA in China but that have been approved by regulatory authorities overseas.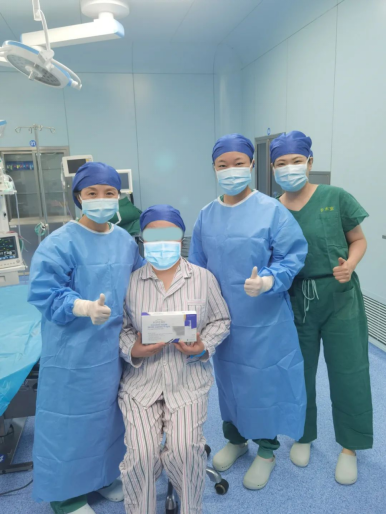 (First-Ever Application of Triamcinolone Acetonide Injectable Suspension for Suprachoroidal Use for the Treatment of UME in Boao)
The application marks the first suprachoroidal space (SCS®) microinjection applied in the Lecheng Pilot Zone since its establishment.
Assisted by Boao Super Hospital's ophthalmology team, the injection was administered by Professor Yuqin Wang, chief physician at the Eye Hospital of Wenzhou Medical University and key member of the immunology committee at the Chinese Medical Association, Ophthalmology Branch.
Professor Yuqin Wang said, "The process went extremely smoothly and I am honored to be able to administer the innovative and pioneering SCS® Microinjection drug delivery technology, to better benefit patients. Uveitis affects millions of patients in China, and UME, one of the most prevalent and severe complications of uveitis, not only impairs eyesight and quality of life, but also places a significant burden on patients' families and the society. I am very much looking forward to the early approval of Arctic Vision ARCATUS® (ARVN001), and believe it will go a long way to benefit patients in need."

Mimi Liu, Deputy Director of Hainan (Boao) International Ophthalmology and Optometry Hospital said, "The successful application is undoubtedly a boon for patients with UME in China. Through the early access program in Boao Lecheng International Medical Tourism Pilot Zone, patients with unmet clinical needs can benefit from more of the world's leading treatments. We look forward to more innovative therapeutics from Arctic Vision in Boao in the future."
Dr. Qing Liu, Co-Founder and Chief Medical Officer at Arctic Vision noted, "Triamcinolone acetonide injectable suspension is the world's first – and currently only – therapy utilizing suprachoroidal to treat macular edema associated with uveitis. The fact that it is accessible and can benefit Chinese patients a mere six months after the commercial launch in the United States, is testament to the speed and efficiency of the Boao Lecheng International Medical Tourism Pilot Zone, and China's rapid medical innovation and transformation. This is our first foray in the Leceng Pilot Zone and we see many more to come. Our focus now is to actively advance the development and launch of ARCATUS® in China, and work collaboratively with stakeholders so we benefit more Chinese patients suffering from UME."
The SCS® is a potential space between the sclera and the choroid. Delivery via the SCS® allows for rapid, precise, targeted, safe drug dispersion, resulting in longer-lasting effects. In recent years, SCS® application is increasingly recognized as a highly promising and proven way of effective drug delivery. In October 2021, the U.S. Food and Drug Administration (FDA) has approved XIPERE™ (triamcinolone acetonide injectable suspension) for suprachoroidal use for the treatment of macular edema associated with uveitis. This makes XIPERE™ the first and only FDA-approved therapy for delivery via suprachoroidal injection.
- End -
About 锋脉® / Arcatus® (ARVN001)
ARVN001 (known in China as 锋脉® or Arcatus®) is a proprietary suspension of the corticosteroid triamcinolone acetonide formulated for administration to the suprachoroidal space. It has been approved in the U.S. for the treatment of macular edema associated with uveitis (UME) and is now being investigated for diabetic macular edema (DME) and other ocular fundus diseases. The patented SCS Microinjector® technology is designed to deliver drug to the suprachoroidal space located between the choroid and the outer protective layer of the eye, known as the sclera. Suprachoroidal injection enables the rapid and adequate dispersion of medicine to the back of the eye, offering the potential for the medicine to act longer and minimize harm to the surrounding healthy parts of the eye.
In March 2020, Arctic Vision acquired the exclusive license for the development and commercialization of XIPERE™ from U.S.-based ophthalmology player Clearside Biomedical, Inc. (NASDAQ: CLSD) in Greater China and South Korea, later expanding the license territory to include ASEAN countries and India, and subsequently Australia and New Zealand, in August and September 2021 respectively. ARVN001 is Arctic Vision's project code for XIPERE™.
In September 2021, CFDA has approved the second indication of ARVN001 for the treatment of diabetic macular edema (DME) to proceed to Phase I study. In November 2021, the first set of patients have been dosed in the Phase III study of ARVN001 for the treatment of macular edema associated with uveitis (UME) in China.
About Arctic Vision
Arctic Vision is a China-based ophthalmic biotech focusing on breakthrough therapies, with a leading portfolio covering pre-clinical stage to commercial stage products. Our vision is to provide innovative therapies in China, Asia and globally to address unmet clinical needs and benefit ophthalmic patients at large. Arctic Vision is supported by top-tier life sciences investors and led by an elite team of ophthalmic industry veterans with substantial regional and global experiences in R&D and commercialization of ophthalmic products.
For more information, please visit https://www.arcticvision.com
For investor and media enquiries, please contact communications@arcticvision.com