Shanghai, China, January 26, 2022 – Arctic Vision, a China-based biotechnology company focused on innovative ophthalmic therapies, today announced a strategic agreement with Shanghai MediTrust Health Technology Co., Ltd. (MediTrust Health), a leading innovative healthcare services platform in China. The partnership seeks to improve the accessibility and affordability of innovative ophthalmic drugs and advance development of eye healthcare in China through collaborations in eye therapy innovations, and optimization of business models, commercial health insurance and payment formats.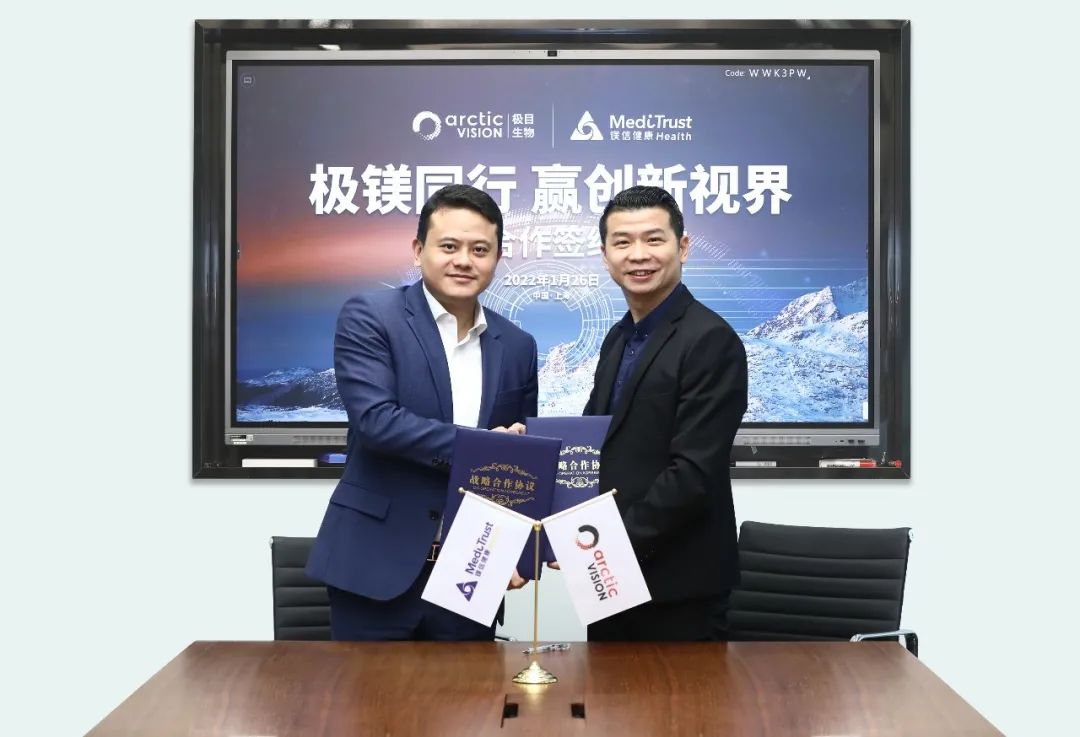 MediTrust Health Founder and CEO Seth Zhang (left) and Arctic Vision Founder and CEO Dr. Eddy Wu (right) at the signing ceremony in Shanghai.
Visual impairment is a global public health challenge and China is currently home to one of the largest population of patients with blindness and visual impairments in the world. Driven by a rapidly ageing population, increasing prevalence of myopia, rise of consumption and favorable healthcare policies, there is a greater focus on eye health care with related products and services in China quickly growing in sophistication and diversity. The recent announcement of the 14th 5-year National Eye Health Plan (2021-2025) in January 2022 is further testament to the nation's commitment to holistically develop its eye healthcare sector.
In line with this goal, Arctic Vision and MediTrust Health are jointly working towards the development of a smart and efficient eye health service system by leveraging their respective strengths in ophthalmic therapies and innovative payment methods.
The agreement will see both parties collaborate in the following areas:
• Leverage MediTrust Health's extensive urban health insurance coverage and Arctic Vision's leading innovations in eye care solutions to provide more comprehensive urban health insurance options for people with and without pre-existing conditions. Both parties will work towards the providence of competitive insurance packages that offer additional coverage beyond the basic payout by national healthcare policies, and further improve the accessibility of innovative eye drugs and therapies to address unmet needs of eye patients.
• Develop innovative payment models that help alleviate cost burdens for patients with chronic diseases by tapping on MediTrust Health's senior insurance product (with RMB 1 million coverage) and urban benefit card program and including Arctic Vision's pipeline products such as ARVN002 for myopia and ARVN003 for presbyopia.
• Utilize MediTrust Health's one-stop online healthcare service platform to provide drug purchase benefits, disease education and pharmacy network information to patients and consumers. Arctic Vision and MediTrust Health will additionally work towards the improvement of full-cycle disease management and drug usage experiences for patients.
• Facilitate clinical research and speed up clinical trial project matching through MediTrust Health's recruitment platform for new drug R&D. Both parties have agreed to expand new drug accessibility through a widespread but targeted outreach to patients who are willing to be involved during the clinical trial stage.
This strategic cooperation will also enhance the implementation of the early testing program for Arcatus™ (ARVN001) by Arctic Vision in Boao, Hainan. Patients can apply for exclusive access to ARVN001 via the innovative payment platform Care2pay rolled out by MediTrust Health, providing Arctic Vision a wider scope for clinical research in China.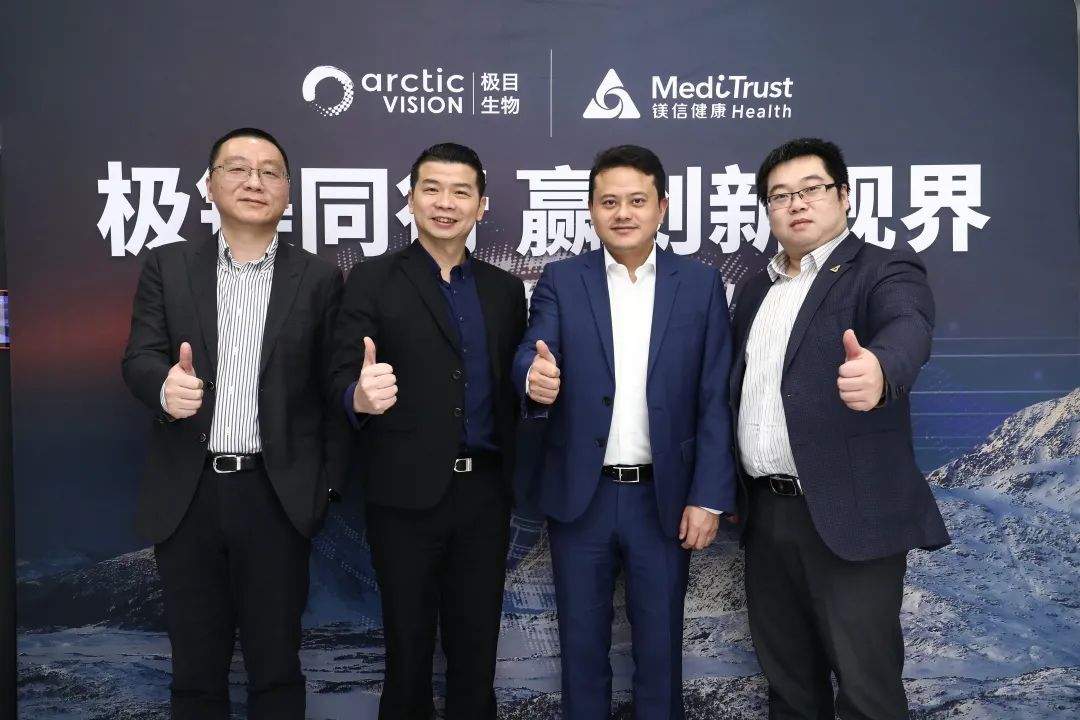 (from left to right) Chief Commercial Officer of Arctic Vision York Chen, Founder and CEO of Arctic Vision Dr. Eddy Wu, Founder and CEO of MediTrust Health Seth Zhang, Vice President of MediTrust Health Hao Feng
Arctic Vision Chief Commercial Officer, York Chen said, "Innovation is core to Arctic Vision and we aim to bring better eye care experiences to patients through continued technology and innovation. The 14th 5-year National Eye Health Plan has set clear and favorable guidelines at a national level. Through our partnership with MediTrust Health, we look forward to leveraging the strengths of both parties to improve the accessibility and affordability of innovative ophthalmic therapies and address the unmet needs of eye patients. We have a great opportunity now to build a comprehensive ophthalmic service platform as a critical information gateway to eye disease prevention, chronic disease management and disease education, and enable a truly efficient, smart and accessible eye health management system."
Founder and CEO of MediTrust Health, Seth Zhang, added, "Driven by intelligent technology and leveraging our medical and insurance as core platforms, MediTrust Health is committed to bringing patients and families a more holistic, cost-effective and quality healthcare services. We believe our collaboration with Arctic Vision will service the current unmet gaps in healthcare services and bring about better and more comprehensive eye health management services to China's patients and families."
Founder and CEO of Arctic Vision, Dr. Eddy Wu concluded, "We are excited to work with MediTrust Health and envision an ophthalmic treatment system that provides holistic eye care services for patients. In transforming our shared vision into reality, we work towards accelerating the development of China's eye care sector to benefit more people."
- End -
About MediTrust Health
Shanghai MediTrust Health Technology Co., Ltd. ("MediTrust Health") is a leading brand in China for innovative medical payment services wholly owned by Shanghai Pharmacy. MediTrust Health has been committed to providing medical payment solutions and expense management by leveraging innovative payment plans, commercial insurance PBM and drug benefits. MediTrust Health has built a diversified healthcare payment service system encompassing new and specialty drugs, chronical disease drugs, rare drugs and medical equipment. Care2pay, its subsidiary medical payment and patient benefits platform, enables easy access to drug benefits and install payment options for patients through partnerships with pharmaceutical companies, financial institutions and pharmacies. It is also well-positioned to offer a more systematic recovery management to patients through its three modules of information integration, innovative services and patient community. While Care2pay is useful in saving cost on drugs for patients, it also reinforces patients' confidence and willingness to use the medicine. For more information, please visit www.meditrusthealth.com.
About Arctic Vision
Arctic Vision is a China-based ophthalmic biotech focusing on breakthrough therapies, with a leading portfolio covering pre-clinical stage to commercial stage products. Our vision is to provide innovative therapies in China, Asia and globally to address unmet clinical needs and benefit ophthalmic patients at large. Arctic Vision is supported by top-tier life sciences investors and led by an elite team of ophthalmic industry veterans with substantial regional and global experiences in R&D and commercialization of ophthalmic products. For more information, please visit www.arcticvision.com.